Jess Stonestreet Jackson's passion for horse racing was ignited as a young boy when he watched from atop his favorite uncle's shoulders as Seabiscuit won the 1938 Bay Meadows Handicap. Many years later Jackson, by then a prosperous attorney and entrepreneur, achieved global acclaim as a winemaker, and the success of his Kendall-Jackson Wines afforded him the opportunity to indulge his passion for Thoroughbred racing at the highest level.
In establishing a foundation for his Thoroughbred operation, Jackson applied many of the tenets that had served him well as a winemaker. He approached the Thoroughbred industry, as he had the wine business, with a mix of pragmatism and passion. The success of his Jackson Family wines began with the prime land on which the grapes were grown, and Jackson knew that a thriving Thoroughbred operation must start with choice farmland. Months after the February 2005 purchase of the former Buckram Oak estate, Jackson established Stonestreet's Yearling Division on a historic parcel of rolling Woodford County acreage dotted with freshwater springs near the town of Versailles, Kentucky. Jackson had lofty ambitions for his fledgling equine operation, and one of his primary goals was to own a truly great racehorse. He did not have to wait long for that dream to come to fruition.
In Feb 2007, Jackson's Stonestreet Stables purchased a controlling interest in a promising three-year-old colt named Curlin. Following wins in the Rebel Stakes and Arkansas Derby, and a third-place finish in the Kentucky Derby, Curlin won the Preakness Stakes over the most talented crop of three-year-olds in recent memory and finished out the Triple Crown season with a second-place effort in the Belmont Stakes. He concluded the year with victories in the prestigious Jockey Club Gold Cup and the $5 million Breeders' Cup Classic on his way to Horse of the Year honors.
Later that year he captured the Stephen Foster Handicap and Woodward Stakes. With his second victory in as many years in the Jockey Club Gold Cup, Curlin became the all-time leading money earner in the history of American racing, a title he retained until California Chrome's 2016 campaign.

In winning a second consecutive Horse of the Year title, Curlin joined an elite list of all-time great American Thoroughbreds that include Secretariat, Forego, Affirmed and Cigar. In 2014 he was enshrined alongside those illustrious champions in the National Racing Hall of Fame.
S
tonestreet followed its early accomplishments on the racetrack with quick success in the sales ring. In 2008, Stonestreet sold the top-priced yearling at the Keeneland September yearling sale.
The Stonestreet-bred filly by A.P. Indy out of Chimichurri fetched a final bid of $3.1 million, making her the highest-priced yearling sold at public auction in North America that year.
That spring, Jackson acquired a majority interest in super-filly Rachel Alexandra after watching her obliterate the Kentucky Oaks field by an astounding twenty lengths.
All of us had heard that there was a filly that was much better than any of the colts…
Two weeks after her victory in the Kentucky Oaks, Rachel Alexandra proved that her breathtaking performance was no fluke when she captured the Preakness Stakes, becoming the first filly to win the American classic race in 85 years.
That summer, Rachel embarked on an ambitious campaign. She captured three consecutive Gr. 1 races, beginning with a nineteen-length triumph in the Mother Goose Stakes. She followed that record-setting performance with a win at the Haskell Invitational at Monmouth Park and capped off the season with a score at the historic Woodward Stakes at Saratoga, defeating older males. A portion of Rachel's earnings was donated to the Susan G. Komen Foundation's Race for the Cure. Barbara Banke, a breast cancer survivor, is also a Global Ambassador for the Susan G. Komen Foundation.
The Haskell was phenomenally fun…
Following her remarkable racing season, Rachel Alexandra was rewarded with Horse of the Year honors. It was a historic accomplishment as it marked the first time a three-year-old filly had been so honored and the first time an owner had won three consecutive Horse of the Year awards with two different runners in the Eclipse Award era.
In a remarkably short amount of time, Jess Jackson had made an unprecedented splash in American racing, and the foundations that he laid at Stonestreet positioned the operation for long-term success.
In April 2011, Jackson learned that Rachel Alexandra, retired to Stonestreet's broodmare band the previous fall, was carrying a colt by Curlin. That foal, the first by and out of Preakness winners, would later be named Jess's Dream. On April 21, 2011, Jackson passed away at the age of eighty-one, leaving a legacy of sportsmanship, integrity, and the pursuit of excellence to the Thoroughbred world.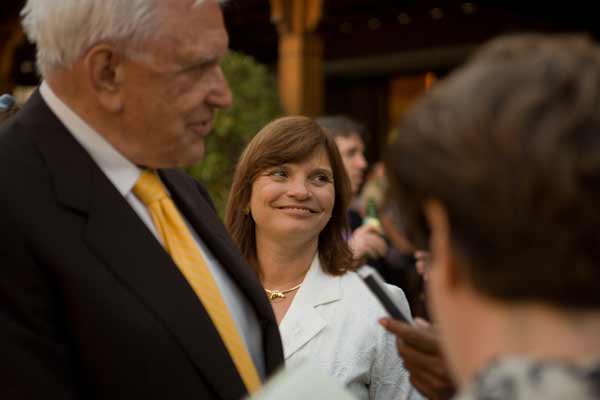 That fall, My Miss Aurelia's impressive victory in the Breeders Cup Juvenile Fillies capped off an undefeated two-year-old season, providing a fitting toast to her breeder. She was named Champion Two-Year-Old Filly of 2011, becoming the first Stonestreet homebred to win championship honors.
As she accepted the filly's Eclipse Award, accompanied by family and friends, Barbara recalled her late husband's high hopes for My Miss Aurelia as a foal, and she let the racing world know that under her leadership, Stonestreet would continue to be a major player in the American Thoroughbred industry for years to come.
Building on the legacy left by her husband and drawing from her experience as the head of a global winemaking empire, Barbara remains committed to breeding, raising, and racing Thoroughbreds of the highest caliber at Stonestreet.
Under Barbara's leadership, Stonestreet has increased the size of its racing stable, broodmare band and established the Stonestreet Training and Rehabilitation Center near Ocala, Florida, which allows Stonestreet to apply the same principles to the early training of its racehorses as it does to raising its young horses in Kentucky. An expanded international presence for the Racing Stable has brought graded stakes victories in eight countries, most recently Australia, France and the United Kingdom.
The guiding focus of Stonestreet's breeding program is to produce Thoroughbreds with strength, stamina, and class. And it has been successful in that endeavor: Since inception, the program has produced the winners of over 170 graded and listed stakes races. In 2021 Stonestreet sold 54 yearlings for $14, 375,500 leading North American breeders' by gross yearling sales receipts for the tenth time since 2007.
The farm's long-term business model includes welcoming its retired fillies into its broodmare band and supporting its colts at stud. But Stonestreet is also committed to providing the horses that do not enter the breeding operation every opportunity to succeed in a second career.  Stonestreet retirees complete the New Vocations program, with Stonestreet remaining financially accountable during the retraining process.
Barbara is proud of her service to a number of Thoroughbred industry organizations including as the Chairman of the Breeders' Cup, Steward of The Jockey Club, member of the TOBA graded stakes committee, and her participation on the boards of Keeneland and National Racing Museum and Hall of Fame.
Barbara is committed to pursuing a bright future for an industry and sport that have provided her with so many thrills and memories. And at the dawn of its second decade in operation and with a talented team in place, there is every reason to believe that Stonestreet's best days are yet to come.
"I'm committed to raising sturdy, healthy racehorses… I'm proud of what we've done up to now at Stonestreet and we will continue to get better."